This fiber is the first silk extruded by the silkworm and looks like slightly disorganized puffs of carded fiber. This is the little 'hammock' the worm creates for the cocoon.
It can be spun into fairly smooth yarn with a matte appearance. Or use it to add texture and color to your collage, silk fusion, needle felting and stitching work.
After it is dyed, it can feel stiff and 'crunchy', but handle the strippings for a few moments and the softness returns.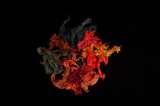 » details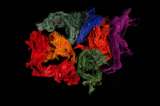 » details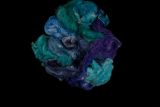 » details