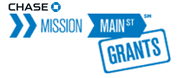 Thank You!
Thank you for the 768 votes! Now we wait until January 2014 to learn if we are the lucky recipients of a Chase Mission Main Street Grant. (keep your fingers crossed--this would be a dream come true!)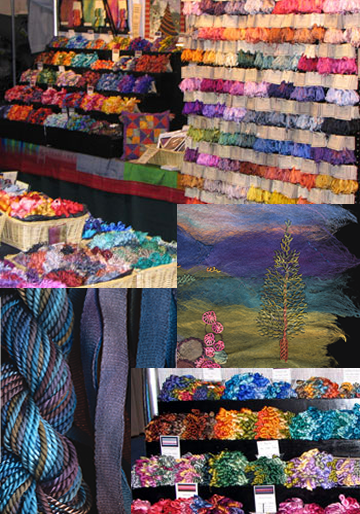 ---
Newsletter Registration
Register for our on–line newsletter which includes updates on our Web Specials.
---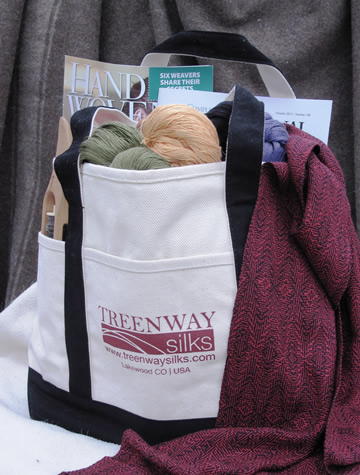 Silk- Delicate, strong, dyed a thousand colors and woven into the fabric of history. Who can resist the lure of silk?
Treenway Silks shares its fascination for silk internationally.
We send SILK YARNS, THREADS & RIBBONS throughout the world and we are dedicated to providing fresh concepts for creating beautiful silk pieces and imparting a keener understanding of silk. We design our own yarns and colors, develop kits, and offer workshops and present slide programs.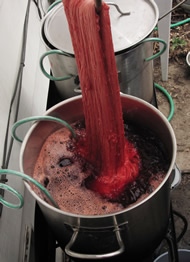 Treenway Silks - 100+ Fabulous Colors!
Treenway Silks oversees the creation of our silk yarns, threads and ribbons in their natural, un-dyed form. We work directly with the silk producers in China and India.
Then we custom dye of our products. Our Montano colorways are dyed on Salt Spring Island, in British Columbia, Canada. Our large selection of yarns and other fibers, including Salt Spring Island colorways, are dyed by our dyers in the Denver, Colorado area.
Treenway Silks Has Two NEW Products!
Myōjō yarn on cones!
We now carry our popular Myōjō yarn on cones. It's so new, we don't even have it photographed yet! But it's the same 60/2 Bombyx spun silk that we've always carried in skeins.
Our cones are natural (undyed) silk yarn and in a hefty 200g (70z) size.
As always, we charge by the gram so if your cone is a bit lighter, you'll pay a bit less and if you cone is a bit heavier, you'll pay a bit more.
To order, click here...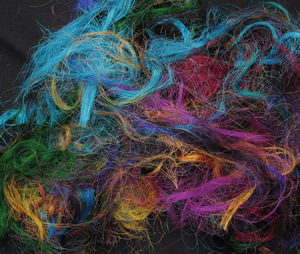 Sari Silk Fibers!
People have asked if we could get the same lovely multi-colored silk fibers that are used to create our recycled silk yarn. Well, we have and it JUST arrived! I just took a quick picture of it to show you the lovely colors, but we'll get a professional photograph ASAP.
It's 100% silk dyed in India in a myriad of bright, beautiful colors, all mixed together. Some of the fibers are short (about 2 inches) and they can be strand of fibers up to 18 inches long! We are thrilled with the mixture!
Use this for adding texture in your silk fusion, spinning, and fiber arts.
Every bag a unique mixture of colors and fiber length. To order, click here...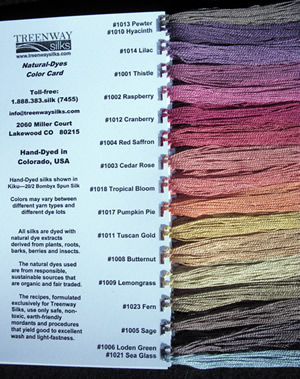 NEW Natural-Dye Colors
As promised, the very talented Donna Brown has developed 17 lovely natural-dye recipes exclusively for Treenway Silks.
We planned for just 12 colors, but Donna developed so many lovely colors, we couldn't reject any! Do you blame us?! We have sample cards, click here. . .
You may order any of our yarns or ribbon dyed in any of the 17 natural-dye colors. Or, check our Color Now! skeins as we have a few Kiku and Yasulyn skeins dyed already.