Silk Tidings
January 31, 2012
After the holiday rush and Chinese New Years celebration, winter can seem long with springtime a distant hope of warmth. These cold and quiet days are perfect for working on a beautiful silk project. And the best time to try something new—maybe one of our wild silks?!
Wild silks—different than the snowy white Bombyx, but incredibly lovely. We have some unique wild silk yarns and fibers that you can't readily find anywhere else. Here, we cover tussah peduncle silk yarn and "Muga—Can it be Dyed?" Next week's Silk Tidings will include eri silk yarn and fiber.
Update on the New Zealand fleeces--they arrived and many have departed very quickly! There are a few choice fleeces remaining, so you still have a chance to try one these phenomenal fleeces.New Zealand Fleeces Information


Forever in Silk! --
Susan and Richard
---
Tussah Peduncle Yarn: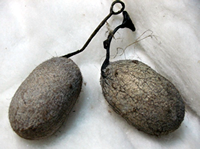 This very unusual silk yarn is from the tropical tussah (tasar in India) caterpillar. This "little guy" has a cocoon spinning process unlike any other silk producing caterpillars in the world, including the temperate tussah silkworm.
When the tropical tussah caterpillar is ready to spin its cocoon, the first silk is spun back and forth to form a stem, called a peduncle. The caterpillar spends an entire day creating the peduncle and then it begins to spin the cocoon. [Photo by WormSpit]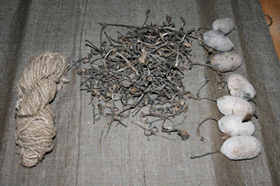 As nothing is left to waste in India, the village women in the tasar-rearing areas have developed a multi-step process of turning the silk peduncles into silk yarn. Learn more about this process in the Founder's Corner as Karen and Terry were able to view the entire Tussah Peduncle Yarn production process during their recent trip to India. [Photo by Karen Selk]

Unlike the honey-colored cocoon, the stem is nearly black. The peduncle yarn is a deep gray-brown color; it is a bit uneven, similar to a hand-spun yarn. The yarn is firm. Because the ply has a heavy twist, the yarn is put up on cones. As this silk is spun from short strands of the peduncle, this plied yarn is not suitable for warps.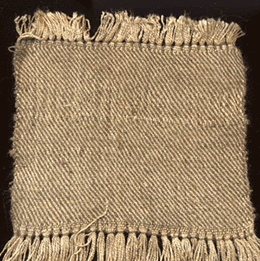 Karen, Treenway Silks Founder, wove a twill sample using a 30/2 muga spun silk warp and the 20/2 peduncle in the weft. It was sett and beat at 36 EPI. The hand of the finished cloth is firm, but not stiff. Karen cautions "be watchful when weaving, as the yarn wants to twist back on itself." [Photo by Karen Selk]
My knitting friend Brenda thinks the Tussah Peduncle Silk would make a terrific knitted cell phone bag—the firmness of the yarn would be an asset for that project.
There are approximately 900 yards on a 100g cone. To see the yarn listing, click here.
To order, you may user our secure on-line order form: click here. or call 1.888.383.SILK (7455)
Tussah Silk:
Fascinated by the Tussah Peduncle silk yarn? We have Tussah Spun Silk yarn and Tussah Silk Fiber, too.
Our tussah silk is produced by a wild caterpillar that lives mainly in China, India and Korea. These feisty caterpillars have thwarted all efforts by humans to domesticate them. Regardless of where they live, the leaves they consume contains tannin. Tea also has tannin--that is what stains your teacup a light tan color. And this same tannin in the leaves gives the tussah silk its natural honey color.
Natural by Nature Scarves Kit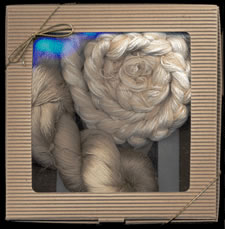 Love all the different colors of silk and want to use them all at the same time? We've made it easy for you with this striking and sophisticated Natural by Nature scarves kit for weavers. This lovely scarf was the cover of Handwoven May/June 2009 issue.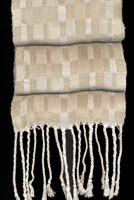 The weave structure is twill blocks on 8 shafts. The kit contains a weft yarn and a pre-wound warp long enough to weave TWO scarves approximately 6.5 inches wide by 72 inches long. The sett is 30 EPI (ends per inch). Complete warping and weaving instructions are included in the gift box.
Karen Selk, Treenway Silks' founder, designed this scarf to show the different natural colors, textures and sheen of the wild silks (muga and tussah) as well as Bombyx silk in reeled, spun and noil yarns. This scarf is sophisticated, elegant and feels luscious against your skin. To order, click here.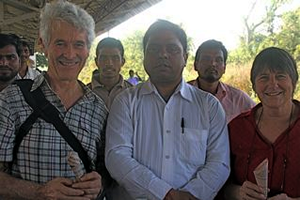 Founders' Corner
Karen & Terry had a fabulous trip to India. They were able to view the entire Tussah Peduncle Yarn production process—totally fascinating and it helped me appreciate this very special yarn!
Our Journey to See the Making of Peduncle Yarn
Getting to the Station on Time
In the dark hotel lobby, the sleepy night receptionist rises from behind the counter wearing a knit hat and jacket at 4:45 am, "Yes, madam?" "We have a hotel car booked to take us to the train station." A confused and panicked look crosses his face as he turns on the light and looks through some papers on the desk and replies read the whole story . .
---
Follow Treenway Silks on Facebook:
Follow us on facebook you'll be inspired by terrific projects that people have made with Treenway's silks, plus you can laugh along with me as we have some type of 'adventure' with the business each week. And Facebook will give you sneak peaks into new products in development. Link To Facebook
Muga Silk Yarn:
Can It Be Dyed?
Donna, one of my muga-loving friends sent me a link to a very knowledgeable website which said "Due to its low porosity the Muga yarn cannot be bleached or dyed and its natural golden color is retained."
Hmmm. I wonder if that's true for Treenway Silks' Muga Spun Silk yarn? So, of course, we had to try!
Betsy, one of Treenway Silks' Colorado dyers, embraced the experiment. She followed all our standard preparation and dyeing steps. First she dyed one skein color #958 Gypsy Passion (red-violet).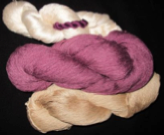 The photo shows (top-to-bottom): Bombyx spun silk (natural) with a mini-skein of the silk dyed #958 Gypsy Passion, muga spun silk dyed #958 Gypsy Passion, and muga spun silk (natural).
As you can see from the photo, the muga silk dyed beautifully! The color "shifted," as expected, but you can definitely tell it is the same color.
Next Betsy took a skein of Bombyx and a skein of muga and put them into the same dyepot--color #958 Periwinkle. Periwinkle has a lot of blue in it, so while the muga continued to dye, this color shift was dramatic: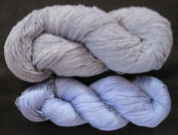 The periwinkle muga (top skein) is basically gray, compared to the periwinkle Bombyx yarn (bottom skein).
Betsy put it this way: "Since the muga is brownish/gold to begin with, then greens, blues, indigos and blue-violet colors will have the biggest color shifts. You'll get something closer to what you expect dyeing muga silk one of our red, orange, yellow or brown colors." But, of course, none of our 100 colors will be a perfect match on the golden muga silk.
So, do you think we stopped there? Of course not!
Since this quarter (spoiler alert!!) we will be introducing a line of natural-dye silk colors, we had to see if the muga silk dyed with the natural dyes. Donna, my natural dye expert, took on this challenge as she is creating a line of natural-dye colors exclusively for Treenway Silks. No sneak peak photos as to colors, but the muga dyed beautifully in all 14 colors! Trust me, every color is yummy!
We feel a bit like the Discovery Channel Mythbusters show: muga silk does dye!
To see our muga silk in our yarn listing, click here.
To see our 100 colors, click here.
To order, you may use our secure on-line order form: Order Form
To see how to order hand-dyed silk yarn,click here.
---
Muga Silk Fiber:
Fascinated by the muga silk yarn? We have muga silk fiber too, click here
It is gorgeous and it is wondrous to spin and fuse. Muga fiber is a deeper gold-color than its cousin Tussah. The staple length of the sliver is about 6 inches, which is similar to tussah. Hand-spinners love working with muga—it reacts about the same as tussah silk (which is easier to spin than Bombyx silk sliver) and you get a very shiny and golden yarn. Yum!