Silk Tidings
Tiding Newsletter
November, 14 2013
Dear Silk Lovers,
As many of you know, we've applied for a $250,000 Chase Mission Main Street Grant. Thank you for all your votes! We are trying to reach 1,000 votes before voting ends this Friday, so if you've not voted, please take a moment to do so. See story below for voting link.
We have new 2 kits for weavers and a new Threedles Needlearts Design thread kit. You will find photos and information on all below.
I leave Thursday evening (11/14) for Iowa to help celebrate my parents' 65th wedding anniversary. I'll be back in the office on Tuesday (11/19). Orders received by noon Thursday will ship out Thursday and everything else will ship out on Tuesday.


Forever in Silk --
Susan & Richard & Kiku
---
2 Clicks=1 Vote=BIG help!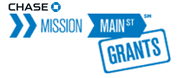 We've been the proud owners of Treenway Silks for 2.5 years. During that time we've redesigned www.treenwaysilks.com (adding a shopping cart), added 12 new silks yarns and 4 cocoons, updated package labeling, introduced 17 natural-dye colors and doubled the colors of our hand-stitching threads.
To keep growing, Treenway Silks has applied for a $250,000 Chase Mission Main Street Grant.  About 20% of the evaluation 'score' is based upon "demonstrated community support" which is code for "votes matter"! Our goal is 1,000 votes by end of day before voting closes on November 15th.  We need your help to get there.
Please take a moment to click on the link TODAY and vote for Treenway Silks.
And THANK YOU to everyone who has already supported us with your vote! We appreciate it more than you know!
---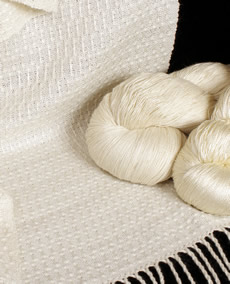 2Skeins=2Scarves™
These two elegant white-on-white 'Soft & Elegant' Huck Scarves are woven on a 4-shaft loom with just two skeins of silk.
We created our 'Soft & Elegant' Scarves with natural white Taiyō (100% Bombyx Spun Silk, 30/2) and Silken Ankara (55% Bombyx Silk/45% Angora Rabbit, 30/2).
Combining these two silk yarns gives a wonderfully soft hand to these luxurious scarves. Anyone on your holiday gift-list would love getting one of these!
---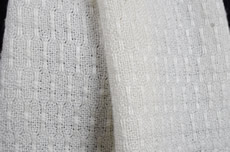 2Skeins=2Scarves™ Drafts & You Choose the Yarn!
Love the look but want to try some color? Get the draft and select the yarns you want to use. We think natural white Taiyō and Camelot Chameau (55% Bombyx Silk/45% Tan Camel, 30/2) would be stunning. 
Or pair Taiyō in color #57 Raven Black with Silken Fog (55% Bombyx Silk/45% Yak, 30/2). Want to stay natural? Try Taiyō in Natural-Dyes #1013 Pewter with Silken Fog for a subtle combination.
Got 8 shafts?
Try 'Interlacement' Atwater-Bronson Lace Scarves. These two fabulous scarves are woven with two skeins of our most popular silk yarn, Kiku (100% Bombyx Spun Silk, 20/2).
You'll love combining two colors in this lace design—one color for warp and one for weft. We wove ours with #47 Cherry Blossom and #223 Star Ruby. But you choose your favorite color combination!
The draft is FREE, and then you order your favorite colors of Kiku. Go to Color Now! and pick hand-dyed skeins that are ready to ship today. Or, we can dye skeins for you!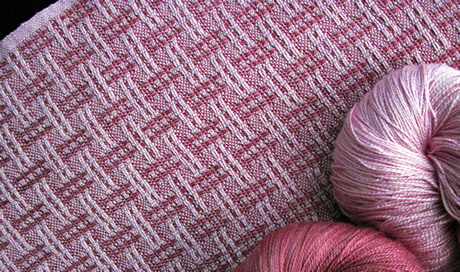 ---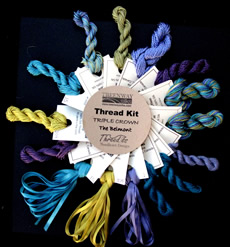 New Thread Kit for Threedles Needlearts Design's newest pattern
Threedle Needleart Design's Triple Crown "The Belmont" colorway uses Treenway Silks' 100% silk threads and ribbons throughout the piece. 
We've put together a silk thread kit which includes the complete collection of Treenway Silks' silk threads and silk ribbons needed to create this beautiful project.

Treenway Silks in 'Needlepoint Now' magazine!
We're so EXCITED!! Suzanne Howren and Beth Robertson's "Thread Tales" story in the Nov/Dec 2013 issue of Needlepoint Now magazine is a WONDERFUL article on Treenway Silks! Page 57--check it out!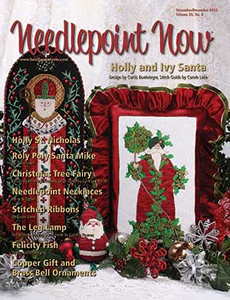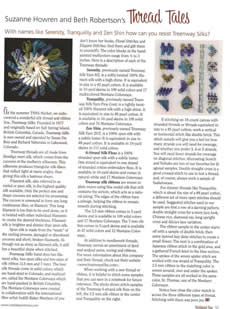 ---
TREENWAY SILKS ON THE ROAD
We'll be traveling on these days:
November 15-18, 2013: Traveling to Iowa for my parents' 65th wedding anniversary.
December 20, 2013 – January 1, 2014. Closed for the holidays.
January 8-January 15, 2014: Exhibiting at TNNA (The National Needlearts Association) trade show in San Diego CA.
February 13-February 18, 2014: Exhibiting at TNNA trade show in Nashville, TN.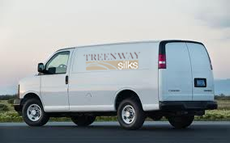 Please remember, while on the road, we cannot ship out orders. But we work extra long hours upon our return to send everything out as quickly as possible!
---
Shop Specials
Our Shop Specials page has been updated with a few more items.
The Shop Specials page includes odd-sized packages/skeins/cones (bigger or smaller than our standard sizes) and our dyed 'oops' (where the dye result didn't match our exacting standards). Selection changes daily!