Silk Tidings
Tiding Newsletter 11/30/12
Dear Silk Lovers--
Treenway Silks offers the largest selection of silk yarns, ribbons and fibers you'll find anywhere. And, as a hand-dye operation offering 109 colors and 17 natural-dye colors, we dye your yarn/color combination especially for you when you place an order.
But sometimes those projects have a deadline and you need the color NOW! And during this busy holiday time of year, that's especially true.
So we're trying out a new idea: "Color Now." We'll offer an ever-changing, limited number of skeins already dyed and ready to go.
This idea started out in honor of Kiku (our pup, not the yarn). Kiku is just 2 years old and needs her second hip replaced on January 18, 2013. So our dyers have been dyeing up a lot of Kiku (the yarn, not the pup!) which we're offering at a special introductory price.
Let me know if you like this idea and we'll continue it as a regular offering.


Forever in Silk! --
Susan & Richard & Kiku
---
COLOR NOW!
Need your gorgeous, hand-dyed silk NOW to create that one-of-a-kind gift? We now have Kiku (20/2 spun silk) dyed and ready to ship today! Not every color, but our favorite, most popular colors.
"Color Now" gives you the opportunity to purchase perfectly dyed yarns that ship out immediately—no waiting for your yarns to be dyed especially for you!
Color Now Yarns
Skein size:
Price
90g
$30.15
95g
$31.45
100g
$32.70
105g
$34.00
110g
$35.30
And, there will never be a better price for adding a variety of colors to your stash. We all know we need great color selection on hand to be our most creative!
We have a limited selection of "Color Now" skeins…so it's first come, first served!
As always, we weigh each skein and price it accordingly. These special prices are good through January 17th (and then prices will go up $5/skein)
Not only can you get a great price on yarn, if you purchase 6 skeins, Kiku (our pup) will include this sturdy 100% cotton tote bag with our Treenway Silks' logo as her gift to you.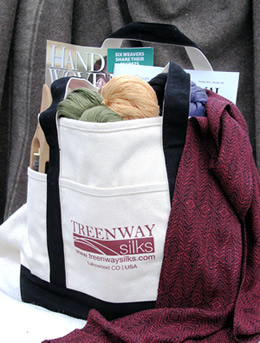 Now for the fine print: these "Color Now" skeins do not apply toward the 10% bulk discount. Skeins may be from different dye pots. Treenway Silks' canvas tote bag offer is valid through January 17, 2013.
Here's the list of colors and number of skeins: Click to open .pdf file
These are listed in color order as shown on our website- colors here..

Ready to order? Use our secure on-line order form here. Or call toll-free 1.888.383.silk (7455)
---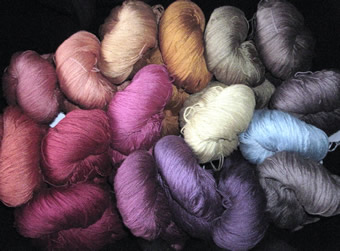 Natural-Dye Colors
As promised, the very talented Donna Brown has developed 17 lovely natural-dye recipes exclusively for Treenway Silks.
We planned for just 12 colors, but Donna developed so many lovely colors, we couldn't reject any! Do you blame us?!
The Natural-Dye color card is just $3.00 and is ready to mail out today. There are two, 10-inch strands of Kiku (20/2 spun Bombyx silk) for each color.
We also have a limited supply of Color Now skeins in stock in both Kiku (20/2 Spun 100% Bombyx Silk Yarn) or Yasulyn (12/2 firm-twist 100% Bombyx Silk Yarn).
Natural Dye Yarns
Kiku or Yasulyn
Skein size:
Price
90g
$35.15
95g
$36.45
100g
$37.70
105g
$39.00
110g
$40.30
Here's the natural dye silk yarns list: Click to open .pdf file
The lovely natural colors are shown in the image to the right.
Want a yarn/color combination that's not already dyed? No problem—as with our 'regular' colors, you can order ANY of our silk yarns in ANY of the 17 colors.
Ready to order? Use our secure on-line order form here. Or call toll-free 1.888.383.silk (7455)
---
Kiku's Story
We adopted Kiku (Labrador/Hound cross) two years ago from Rocky Mountain Lab Rescue. Kiku's mommy was rescued by this great organization which immediately realized she was pregnant. So they found a great foster care home where she gave birth to nine puppies.
Kiku's name is "chrysanthemum" in Japanese. Her mommy's name was Blossom and our recently-passed, beloved dog was named Autumn, so this name gives tribute to those two wonderful dogs.
Kiku is Treenway Silks' mascot: she enthusiastically (and nosily) greets every visitor—her hound side is apparent in her regular vocalizations!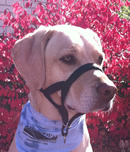 Kiku wearing her indigo-dyed handkerchief silk-screened with the Treenway Silks' logo—compliments of "Auntie Donna" our natural dye expert.
Plus, Kiku rides with me to UPS, the Post Office, and the bank. She likes the bank best as she gets doggie treats there.
And, we start out each morning with a walk around Crown Hill Lake which energizes us both for the day.
We knew Kiku may develop hip dysphasia at her 8-week check up. At 6 months her x-rays showed not the best, but not the worst hips. Just before her 2-year birthday, both hips had deteriorated to the point she was in constant pain.
We replaced Kiku's worst hip a week later (May 2012) at Colorado State University Veterinary Hospital. What a terrific and talented group of people at CSU! Total Hip Replacement surgery has a lengthy recovery, but Kiku did great!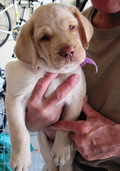 Kiku at 6 weeks old when we chose her as our pup.
And now it's time for the other hip, which is scheduled for January 18, 2013, again at CSU with the same team of doctors.
It's in Kiku's honor that we started the "Color Now" skeins of Kiku (the yarn). So please help support her upcoming surgery with a purchase of "Color Now" Kiku yarn.
---
Natural-Dye Colors Card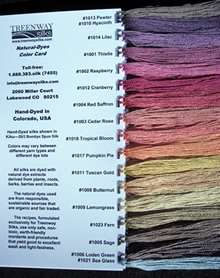 The Natural-Dye color card is just $3.00 and is ready to mail out today. There are two, 10-inch strands of Kiku (20/2 spun Bombyx silk) for each color. (We stacked about 30 color cards to get this big impact of color)