Silk Tidings
Tiding Newsletter 11/6/12
Dear Silk Lovers--
Today feels like Christmas! The long-awaited 360-pound shipment of silk from India just arrived—I've only had a chance to open one of the four huge bales and was so excited I had to stop and share this with you, even before it's on www.treenwaysilks.com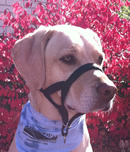 On a personal note, Kiku (our 2-year old puppy, not the silk) needs her second hip replaced in January so watch next week for a special on Kiku (the silk yarn, not the puppy) in her honor.


Forever in Silk! --
Susan and Richard
---
SARI SILK JUMBO pieces—
while they last!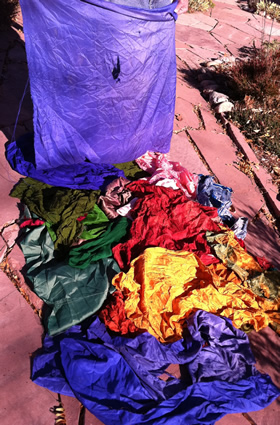 Ordering sari silks from India is a bit of an adventure as each shipment is a bit different. For all of you who have asked about getting larger pieces of sari silk—like fat quarter size (18 inches by 22 inches)—this is your chance! This shipment has a sprinkling of BIG pieces!
Some of the pieces are as large as 36 inches by 36 inches (see the blue silk that Richard is holding up in the picture), but as this is recycled silk, there can be some torn areas in the middle (that dark splot is a tear)
We'll sell these jumbo pieces by the gram ($0.13/gram)…just tell me how many pieces you want and color choice: "warm", "cool" or "neutral". To order, call 1.888.383.silk (7455) OR use our secure online order form: here.
Most of the silks are lighter-weight; for example the large blue piece weighs 50 grams ($6.50).
---
Sari Ribbons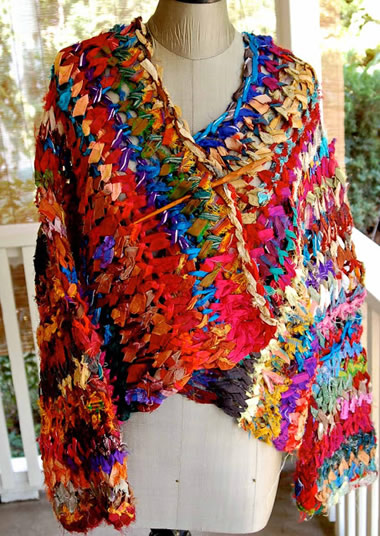 This shipment also included our biggest-ever order of sari ribbons!
For those of you following Cheryl Oberle's knitting with sari ribbon adventure and drooling over her new pattern - read here the September 21, 2012 posting. We're now well stocked with sari ribbons!
Note: See Cheryl's photo of her original pattern on the right
A quick project you can make just in time for holiday party wear or gift giving!
Read more about Sari Silk on the Treenway website here.
---
CANADIAN CUSTOMERS:
The next couple weeks is a great time to order—the mail stream will get clogged up starting 11/23 and be busy (slow) until Christmas. Plus, right now the Canadian dollar is stronger than the US dollar, so your money goes a bit further!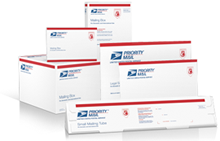 ---
NZ Fleeces:
I've placed the Treenway Silks' order for the NZ fleeces. No word yet on delivery date (likely late December/early January). When they arrive, I'll announce in this newsletter.
For those who can't wait, we have one lovely Corriedale fleece remaining—it's a medium brown mix. It's 6lb/6oz and is $127.50. To order, call 1.888.383.silk (7455) OR use our secure online order form: here.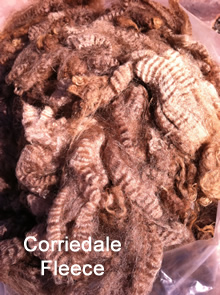 And, for the adventurous, we have one Pitcairn fleece….this is a light-colored ram fleece (so more odiferous) and this fleece doesn't appear to have been 'coated' (worn the protective coat to keep it clean), so it's dirtier than we typically get from NZ.
The Pitcarn sheep (also known as Pitt Island sheep) are thought to have derived from Saxony Merinos—but this fleece is not soft like a merino. It is more suitable for outer garments or rugs. It felts easily so extra care is needed when washing this fleece. This fleece is 9lb/4 oz and is $110.00. Order it here.
---
Founders' Corner:
Karen will be here (Colorado) this month! I'm so excited—my guild arranged months ago for Karen to give the program at our November guild meeting and teach two classes! She'll be teaching her fabulous Silken Kaleidoscope weaving 3-day workshop (sold out!) plus a half day on Silk Fusion. And, I'm thrilled to be her host for her visit—it will be awesome to catch up in person rather than just email!