Silk Tidings
February 08, 2012
We've had snow, snow and more snow here in Colorado! It will provide great moisture for the flower garden (our entire front yard) when it melts. And it's a good reason to stay inside and work on silk projects!
Everyone's favorite "web specials" page has been updated with more yarns and ribbons, so take a look at these great stash builders.
Tussah Peduncle Yarn update: We have this unique yarn (see Silk Tidings Jan 31, 2012) in both skeins and cones. The skeins are mostly 100g (but vary in size and come as large as 150g) and the cones are about 120-130g. Please specify skein or cone when ordering, please.


Forever in Silk --
Susan and Richard
---
Eri Hand-Spun
Silk Yarn:
We have expanded our Wild Silk selection- we now carry hand-spun Eri yarn.
Philosamia ricini caterpillar
The majority of eri silk is raised in the northeastern states of India. Unlike all the other silk worms, the Philosamia ricini caterpillar does not spin one continuous strand of silk when making its cocoon. It spins a while and then stops, spins and stops, continuing this way until it is finished. This stop-and-go process results in a cocoon that does not have one continuous strand, thus it cannot be reeled.

| | |
| --- | --- |
| Photo by Karen Selk | Photo by Karen Selk |
Making Eri Yarn
The majority of eri silk worms are reared by village women and the silk is spun on a drop spindle called a takhli. The eri silk yarn that we carry was raised and spun this way.
The income the village women makes raising/spinning eri is an important contribution to the family. It is likely her husband is a farmer; in all cultures, farming is an uncertain source of income so her family greatly benefits from this additional source of money.
| | |
| --- | --- |
| Photo by Karen Selk | Photo by Karen Selk |
Eri Silk Yarn

Eri silk is a lovely creamy white—it isn't the brilliant white of the Bombyx silk, nor is it the lovely honey color of the Tussah silk. Eri silk yarn is less lustrous than the other spun silks that Treenway Silks carries; this gives it an "earthier" feel.

Our eri silk yarn is a "singles" yarn. A singles yarn does not have the strength of a plied yarn and it isn't typically suitable for a warp. However, I was assured that the Indian weavers use this Eri Silk yarn as a warp—you can try it if you're brave, but I would first sample with a short, narrow piece!

This yarn is approximately 10/1 size or "cobweb". It has enough twist that it can wind back on itself, so this could make an interesting weft for collapse weaving.

Diane knitted a swatch of eri silk for us. She used size 0 needle and the gauge for an inch was 7.5 stitches and 12 rows.

Diane told us that "the Eri Silk makes an interesting fabric because of the texture of the yarn. I did have some difficulty winding off the skein as the yarn tended to want to stick together." Due to the hand-crafted process, some of the skeins have more twist than others and Diane received one of the more twisted skeins to knit our sample.

As the yarn is hand-spun into a skein, each skein can vary quite a bit in weight. As with all Treenway Silks yarns, we weight each skein in grams and price it accordingly. A 100g skein is $28.00 and has approximately 1,000 yards. To see the yarn listing, click here

To order, you may user our secure on-line order form: Order Form Link or call 1.888.383.SILK (7455)
New Size of Bombyx Spun Yarn
We have a new yarn-size in: 60/2x2. Many people see "60" in a yarn size and immediately react with "that's too small for me!" But, you'll see that with this yarn the "60" is followed by "2x2". This means there are two strands of 60/2 plied together—which makes it the same yards per pound as 30/2.
The 60/2x2 yarn has a slightly different look to it (compared to the 30/2) due to the complexity of the construction (plied threads plied together), and four fine threads plied (60/4) will be even stronger than two threads plied (30/2).
Due to the slightly tighter twist, the 60/2x2 can look slightly thinner than 30/2. But you can treat the 60/2x2 the same as you would the 30/2.
The price of both yarns is the same: 100g (3.5 oz) skein is $25.70. To see the yarn listing, click here
To order using our secure online order form click here or call our toll-free number 1.888.383.SILK (7455)
---
Eri Silk Fiber:
Fascinated by the eri silk yarn? We have eri silk fiber too - click here.
The eri silk fiber is a lustrous white with a 3.5-4 inch staple length. The eri silk sliver is as soft to the touch as a baby kitten!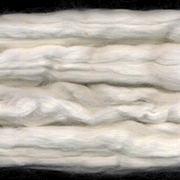 There are studies that show pets help lower blood pressure. I think "petting" the eri silk fiber could do the same thing! Everyone has the same reaction--one touch, then "aahhh" followed by a wonderfully relaxed feeling. Keep a package with you as your personal '"stress-buster!"
The shorter staple length means it is slightly more difficult to spin than other silks. The effort is worth it, as the yarn has a wonderful "hide-and-seek" shine-to-flat finish.

The eri silk makes beautiful silk fusion with more of a matte finish than the other silks. It has a nice parchment look and feel to it.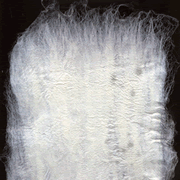 To see the fiber listing click here.
To order using our secure online order form click here or call our toll-free number 1.888.383.SILK
---
Silk Poster
Interested in learning more about silk? We have this amazing two-sided poster created by Karen Selk, Treenway Silks' founder, that covers the Metamophasis of Silk. There's a lot of mis-information about silk floating around (we've only owned Treenway Silks six months, but we've already heard some doozies!), but you can be assured that this poster is filled with completely accurate information.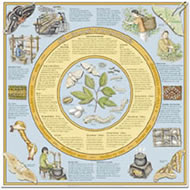 To read more about the poster click here
To order using our secure online order form click here, or call our toll-free number 1.888.383.SILK (7455)
---
Follow Treenway Silks on Facebook:
Follow us on facebook you'll be inspired by terrific projects that people have made with Treenway's silks, plus you can laugh along with me as we have some type of 'adventure' with the business each week. And Facebook will give you sneak peaks into new products in development. Link To Facebook