Silk Tidings
Tiding Newsletter
May 30, 2013
We're so excited to introduce our re-designed website to you! And, as promised, there's a shopping cart to make it easier to select from our 1,150 items!
Plus, you can create an account and store your shipping information. And see a record of every item you've purchased and other helpful information.
Check out our redesign (still www.TreenwaySilks.com) and drop us a line with your comments at info@treenwaysilks.com. We appreciate all feedback.
We also have MANY new products to share with you. So many that we'll cover just two today and follow-up soon with more—as the boat from China will arrive shortly with several more new silk products.
Treenway Silks will be on the road during the summer. See the side bar story for dates and places. And remember, when we're traveling, order processing is suspended temporarily.


Forever in Silk --
Susan & Richard & Kiku
---
WEBSITE REDESIGN
There are many terrific features with our new website so I'll walk you through the best ones.
Right away you'll notice our new logo that our fabulous designer Susie created for us 18 months ago. The colorful arcs represent our silk in its many forms—yarn, roving, thread, and ribbon.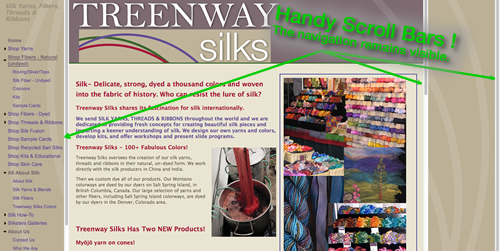 Notice the tan bars on the left and the right side of the screen. These stay fixed (unless you move them using the RIGHT scroll bar) while the center section scrolls up and down.
I asked Brenda, my intrepid and dedicated web designer, to make the left menu 'stay put' so that after I scroll to the bottom of a long page, I wouldn't have to scroll back up to select where I wanted to go to next.
I love this feature as I can move throughout the site very quickly. I've learned that if I 'resize' my screen, I need to make certain I can still see TWO scroll bars on the right. Otherwise scrolling around the center section requires using both the bottom and right scroll bars, which is slow and laborious.
If there's a little triangle next to a menu line, that means you can expand the menu and see more selections, so click away! And click the triangle again to collapse the menu.
Where is everything?
If you're looking for our silk items, you'll want one of the 9 menu items that start with 'shop'. We'll jump past those for the moment and then circle back to the top.
All the great information about silk which you visited regularly is either under 'All About Silk' or 'Silk How-To'.
On these pages, there's more than meets the eye—notice the menu bar along the top shows all the different stories available. The one that is green is the one you are reading.
Looking for all the Treenway Silks colors? You'll find that under All About Silk, 'Treenway Silks Colors'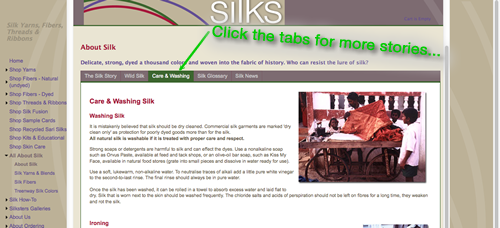 The 'Silksters Galleries' is next item down the left menu. Now all those lovely creations are organized by technique (weaving, knitting, etc.).
Again, notice the menu bar across the top with each artist's name so you can click to their fabulous silk piece.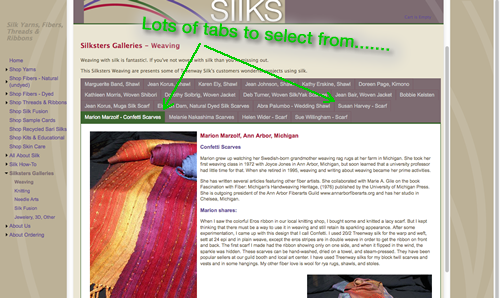 The last two menu items are 'About Us' and 'About Ordering'. Under 'About Us' you'll find past Silk Tidings Newsletters, the Founders Page, as well as 'contact us' and 'who we are.'
Under 'About Ordering' you'll find information about ordering, another way to access your shopping cart, the mail order (.pdf) order form and the Alternate Order form (the original secure on-line order form), if you prefer either of those methods of shopping. And our Wholesale account application.
You'll also find 'My Account' where you can see/update your personal information, see your order history (dollar amounts are the estimate and NOT the actual amount charged to your card), purchased items, and recently viewed items that you can easily add to your shopping cart if you'd like.
Shopping
Ready to find your favorite silk item and try out that new shopping cart? We'll help guild you to your favorite items.
And, notice there is a 'sort by' in the upper right corner. Generally, selecting 'Name (A-Z)' is your best choice, but I'll point out where 'recommended' is a great choice.
Shop Yarns: here you'll find both dyed skeins (Color Now!) and all our natural (undyed) skeins of silk.
Color Now! is 'live' inventory—so if you see it, we have at least one skein. If the color you want isn't there, sorry, we don't have that color dyed at the moment.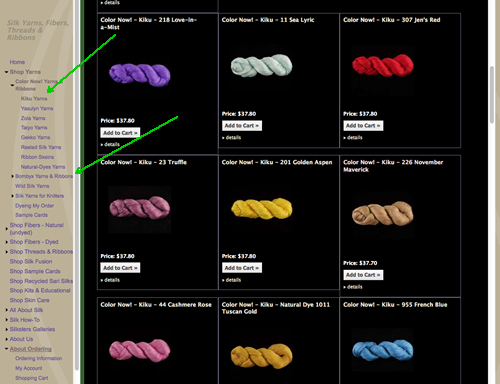 Our undyed skeins are categorized under 'Bombyx Yarns & Ribbons' (these are the big skeins of ribbon) and 'Wild Silk'. Here you may want to use the sort by 'recommended' if you like to see the yarns in order of thickest to thinnest.
Or, if you're a knitter, you'll like the 'Silk Yarns for Knitters' menu which allows you to view the silk by yarn size.
Want your silk a specific color? We will dye your silk for you—the same service we have offered for years. You'll find details under 'Dyeing My Order.' And, remember we have 17 gorgeous natural-dye colors to choose from, too.
Shop Fibers – Natural (undyed): we've created 5 sub-menus for your convenience. You can see all our roving/slivers/tops—this includes cultivated and wild silks and our silk blends.
Or, Silk Fiber – Undyed is where you can find all the 'other' silk fibers we carry, such as Throwsters, Oblongs, or Hankies.
Cocoons – yes we have them! And now we have added wild silk cocoons to our selections. No photos yet. We'll cover this in the next Silk Tidings.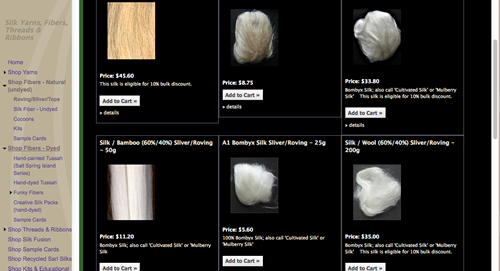 Shop Fibers – Dyed: Love silk fibers and want the expertise of Treenway Silks' dyers? You'll find everything we dye in this section: Dyed Tussah Roving (Salt Spring Island colorways and solid colors), Funky Fiber colorways and Creative Silk Packs.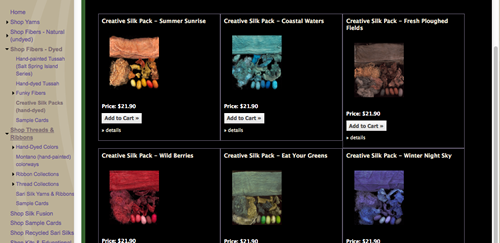 Shop Threads & Ribbons: This is where you want to be if you love hand work!
Expand 'Hand dyed Colors' and you can select the type of silk thread or the width of silk ribbon you wish to see. These will include all our solid colors AND our hand-painted Montano colorways. You'll want to be on 'sort by Name (A-Z)', which you'll find in the upper right corner.
Want to see just those mouth-watering Montano colorways? Select 'Montano (hand-painted) colorways'
Looking for the Canadiana colorway collections? You'll find these under 'Ribbon Collections' or 'Thread Collection.'
And, notice there's a new thread collection—Gulf Islands II. We've brought back this popular mixed-thread collection, but with a slight twist. It's so new they're still being photographed. So more about this in the next Silk Tidings.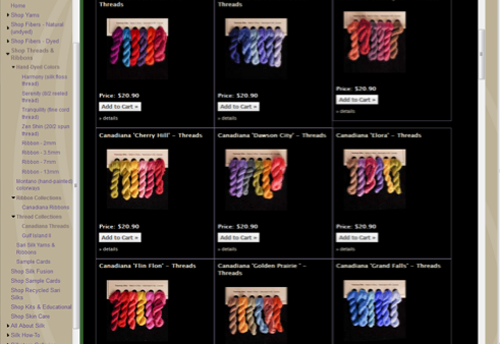 Shop Silk Fusion – here you'll find all the supplies and patterns for your silk fusion needs.
Shop Sample Cards -- So many yarns and fibers to choose from, wouldn't you love to touch them first? Plus, 126 colors -- and we all know that computer screens do NOT reliably show color. So there are Sample Cards available to help you make your selections.
Shop Recycled Sari Silks - These wonderfully colorful sari silk strips, silk yarns and (new!) silk fiber can be found here.
Shop Kits & Educational - looking for the silk poster? Fiber kits? Weaving kits? You'll find them ALL here and more! We've added two books and the Schacht Goko Swift. All so new we don't have photos yet!
Last, but not least, those wonderful dermalove products can be found under 'Shop Skin Care.' These are especially helpful to smooth your hands after gardening. Or sooth your skin after a long day in the sun with insects.
---
NEW PRODUCT –
Myōjō on cones!
We now carry our popular My?j? yarn on cones. It's so new we don't even have it photographed yet! But it's the same wonderful 60/2 Bombyx spun silk that we've always carried in skeins.
Our cones are natural (undyed) silk yarn and in a hefty 200g (70z) size.
As always, we charge by the gram so if your cone is a bit lighter, you'll pay a bit less and if you cone is a bit heavier, you'll pay a bit more.
To order, click here...
---
SARI SILK FIBERS!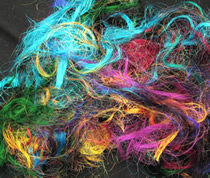 Sari Silk Fibers
People have asked if we could get the same lovely multi-colored silk fibers that are used to create our recycled silk yarn. Well, we have and it JUST arrived!
I just took a quick picture of it to show you the lovely colors, but we'll get a professional photograph ASAP.
It's 100% silk dyed in India in a myriad of bright, beautiful colors, all mixed together. Some of the fibers are short (about 2 inches) or they can be strands of fibers up to 18 inches long! We are thrilled with the mixture!
Use this for adding texture in your silk fusion, spinning, and fiber arts. Every bag a unique mixture of colors and fiber length. To order, click here...
---
TREENWAY SILKS ON THE ROAD
We'll be traveling on these days:
June 14-15: Exhibiting at Rocky Mountain Regional of the Embroiderers' Guild of America Region Seminar 2013 in Ft. Collins, CO.

June 19-26: Exhibiting at TNNA (The National Needlearts Association) trade show in Columbus, Ohio. We'll be booth #954, 956 so ask your local shop owner to stop by and see us!

July 30-August 6: Exhibiting at International Quilt Festival, Long Beach CA. Come to the show and visit our booth!

August 22-27: Exhibiting at TNNA fall Needlecraft Market, St. Charles, MO. Ask your local shop owner to stop by and see us!

January 8-January 15, 2014: Exhibiting at TNNA (The National Needlearts Association) trade show in San Diego CA.

---
Kiku Update:
Kiku has completely recovered from her second hip replacement surgery. Thanks for all your kind wishes during her recovery.
Now that she is pain-free, sporting two new hips, she's acting like a one-year-old puppy and not the 3-year-old dog that she is!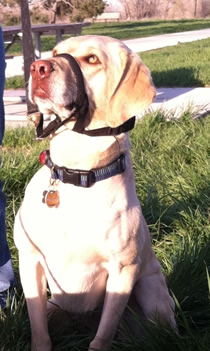 Kiku loving the dog life!
---
Know What You Want -
Use Search
To Go Directly To It
You know you're in the 'shopping' area when the background color is black and the colorful products standout on the page.
And, on every shopping page in the upper left is a search tool. If you know the name of the color you want put that in and zoom - you'll be shown all items with that color. Know that you want 'ribbon' and you'll be shown all 288 ribbon products Treenway Silks sells.
Try it and let us know what you think!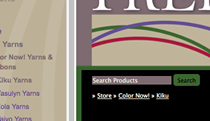 Search is in the upper left of shopping pages.
---
Color Now! Special Offer
Buy 6 skeins of Color Now! Yarn before June 30, 2013 and receive our sturdy 100% cotton tote bag with our Treenway Silks' logo as our gift to you!
Find our current selection here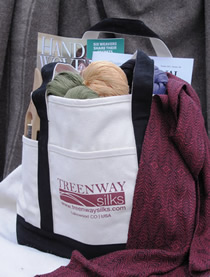 Treenway Silks Tote