Silk Tidings
July 12, 2012
Loyal Silk Lovers-- we inadvertently sent this Silk Tidings out last night without a subject line and under the "admin" email account--which you're not accustomed to seeing. We've been burning the candle at both ends preparing for Convergence and doing too many things too late at night--and so we messed up. I'm so sorry!!
Thank you to everyone who has called/emailed us because you care enough about Treenway Silks to let us know our empty subject line email was identified as spam. We love that you're so loyal! And we'll not make this mistake again!
The "Name that Yarn" contest was a huge success! Thank you EVERYONE who participated! There were many terrific names suggested—you are such a creative group!!
We're packing up the web-store to take-it-on-the-road to Convergence in Long Beach CA. We leave Sunday and return 7/23! Really wish time could expand and contract—we'd add about 10 days to this week if we could! LOL! And, remember, while we're on the road, no packages will ship out, so please plan accordingly.


Forever in Silk! --
Susan and Richard
---
NAME THAT YARN CONTEST RESULTS!
Over half of the proposed names changed as a result of your input and creativity! Thank you so much for help! I love our new yarn names! Our yarn names can be found here: http://www.treenwaysilks.com/yarns.php
We've learned that not all weavers understand the many numbers on the yarn. And some weavers mentally equate the silk size (20/2) to the comfortable and familiar cotton sizes and think "that's too small for me to use." Plus, knitters, crocheters and others find these numbers to be meaningless and confusing. So these reasons were the impetus to name our yarns.
Never fear, though, the descriptions of the silk yarns will ALWAYS be on the website and on the yarn label. If you wish to continue to call your favorite yarn by its description, you can do that—we'll know exactly what you mean!
WINNERS:
Congratulations to Vera, Julie, Mara, Ravven, Kathleen, Rebecca, Siiri, Pamela, Shilo, June, Donna, Betsy and Brenda for their winning names! They're each getting a skein of the yarn(s) that they named.
And, congratulations to Toby, Elserine and Lori whose names were drawn at random to receive a skein of Kiku (20/2 Bombyx Spun Silk).
---
NEW SKEIN LABELS:
The skein labels on Treenway Silk's yarn continue to evolve. We now have the Yarn name, description, weaving info (size, sett) and knitting info (needles, gauge). The info 'rolls' around the skein and the print is big enough I can read it without my reading glasses!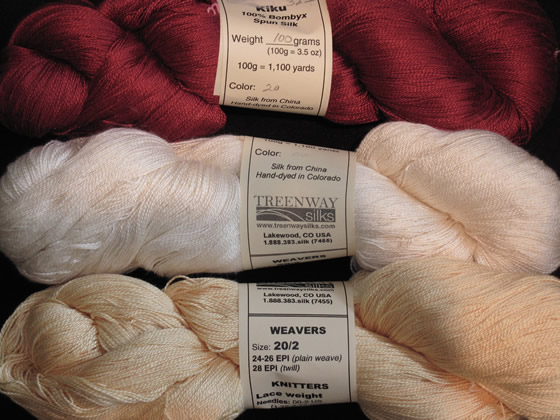 Knitting Silk!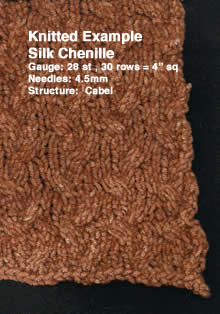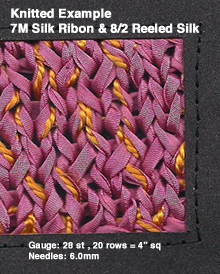 ---
SPOILER ALERT
We've been busy here at Treenway Silks—and often what's keeping us busy is invisible to you. Our biggest project is our new web design—with a shopping cart! Brenda and Genevieve, our brilliant web designers (and both knitters) are hard at work on making our site easier to use.
We're still months away from its debut, but we're so excited about the enhancements. In addition to a shopping cart, we'll be able to connect the yarns with more information, photos of projects, have better search capabilities, etc. And, they'll be space to be able to share the story/meaning behind each yarn name.
All that fabulous content will still be there—just connected differently. And if you're a phone person rather than a web person, our toll-free number will continue to appear on every page and you can call us, just as you always have.
Look for the new website to be revealed around Christmas. And, if you have any 'wish list' thoughts for www.treenwaysilks.com , send me an email!
---