Happy Holidays, silk lovers!
It's a very busy time and happy time of year, and here at Treenway Silks we've been especially busy! We have so many new things to share that we can only put half of them in this newsletter! We wish you all a wonderful holiday season.

Forever in Silk--
Susan and Richard
---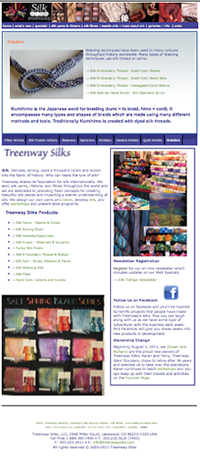 New Treenway Silks
Home Page
With so many yarns, ribbons, slivers and fibers and hundreds of color choices, sometimes it's difficult to know where to look first on the Treenway Silks' website. We've re-designed the home page to help point you in the right direction so click on the '"weavers," "spinner" "knitters," Needle Artists," "Quilt Artists," "Silk Fusion Artists," or "Braiders" button and you'll see links to the pages that may be the most interest to you. Check it out here.
Know what you want but can't remember where you found it? We've also added links to our most popular pages; you'll find these under "Treenway Silks Products" about half way down the home page.
All the navigation buttons across the top of the page are still the same so if you loved how it was, you will still find everything in the same place! Drop me a line and let me know your thoughts about these changes.
Blog from Diane de Souza
Spinning the Solid-Color and new Variegated Tussah Silk Slivers
Recently, I had the opportunity to spin silk sliver from Treenway Silks. The sliver is either tonal or variegated. I prefer the tonal to a straight solid as it gives more depth to the finished yarn and is more interesting (mentally) to spin.
My spinning experience with silk to date has been with caps or hankies. The experience of spinning sliver was quite different. As mentioned on the Treenway web site, you strip off pieces of the sliver and spin them. It is that easy. The main thing to remember is to keep your hands more than a staple length apart or the fiber won't draft.
I tried spinning the smaller strips of sliver and spinning from the fold. I used a modified long draw. While both methods worked, I preferred spinning the fiber in strips. When spinning from the fold, there tended to be more nepps in the fiber.
Unlike silk caps and hankies, the silk didn't stick to flaws in my hands so lemon juice or another aid wasn't necessary. There was silk that attached to clothes so best to wear something that is slick.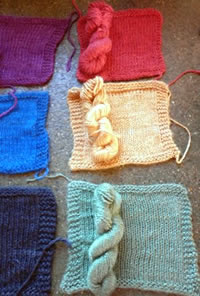 The fiber was spun in singles and then plied in a two ply yarn. The tonal (solid-color) samples were knit with a US size 5 needle at 3.75 stitches to the inch. Of the tonals, the maize had the most variation.
The variegated (Chimney Sweep Cha Cha) was more of a challenge for me. I used the description on the Treenway Silks site for the first sample. I weighed each half of a strip to make sure it was the same weight and I laid them out to spin in the correct order.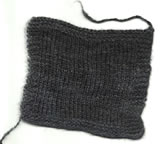 That said, my spinning is not even enough and/or the fiber was a little off as far as weight, so I could not get the colors to line up when plying. My first sample is a little more 'tweedy' than I would like.
I did another sample and plied it using Navajo plying, which gives a 3 ply but is an easier way to match colors when spinning. This sample, I knit with a size 7 needle and was knit at 3.5 stitches to the inch.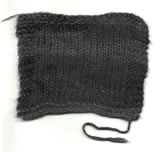 In the photograph it's difficult to see the differences as the gray and charcoal colors make for a subtle colorway, but in person you can see the color lining up better with the Navajo plied sample.
When I do it again, I will knit on a smaller needle and I'll spin the singles for the Navajo plying finer.
Diane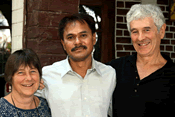 Founders' Corner
Karen and Terry are in India. We'll hear more about their trip in the next Silk Tidings.
Meanwhile, here's a snap from the past from one of their previous India trips with smiles to brighten your day.
Follow Treenway Silks on Facebook:
Follow us on facebook you'll be inspired by terrific projects that people have made with Treenway's silks, plus you can laugh along with me as we have some type of 'adventure' with the business each week. And Facebook will give you sneak peaks into new products in development. Link To Facebook
Specials webpage.

Our Colorado Dyers have been dyeing the 100 hand-dyed Treenway Silks colors. Different water, different altitude (we're a mile high) plus a change to one of the manufacturer's dye powder formulations have given us a nice stash of beautifully hand-dyed silk that doesn't quite measure up to the Treenway Silks' high standards.

The silk is lovely and in perfect condition, but the color isn't an exact match to our color chart (close only counts in horseshoes and hand grenades!) In some skeins the color varies slightly throughout proving that it's hand dyed but more variation than Treenway Silks accepts for our custom dyed orders.

You benefit from our practice--we offer these silk skeins at the same price as the natural-color silk--so the dyeing is free to you! Keep returning to this page as another small stash has accumulated in the office and will be posted in the next week.

These yarns and ribbons are one-of-a-kinds and once they're gone, they're gone! Or, paraphrasing Benjamin Franklin--she who hesitates is lost!
---
Solid-Color Tussah Silk Sliver:
The Solid-Color Tussah Silk Sliver has its own webpage. We've taken our six most popular yarn colors and re-created them on the Tussah Sliver (the same Tussah Sliver used in the variegated Salt Spring Island series). Each color is lovely, and we have so many coordinating embroidery threads and ribbons, you'll have a challenge selecting which ones to get!
Diane de Souza hand-spun and hand-knitted our samples for us. And yours truly made the silk fusion samples. You'll want to reach Diane's story about using these new solid-color slivers located at the end of this newsletter.
---
New Variegated Hand-Painted Tussah Sliver
We have a 24th colorway added to our Salt Spring Island series! Named Chimney Sweep ChaCha, these smoky grays and charcoal colors spin into a luscious, rich, deep-color yarn that can be plied to itself or with a black luxury wool fiber. And for you silk fusion aficionados, this colorway makes a fabulous smoky, stormy color unlike any others we have!
---
New Zealand Specialty Wool Fleeces:
Good news. We're lucky and excited to be able to continue to offer these outstanding fleeces! We're getting 9 different breeds and a total of 60 (!) fleeces; they're in the process of being shipped half way around the world to our Colorado location. More info to follow soon!
---
Holiday Closure
Treenway Silks will be closed for the holidays and inventory beginning Thursday, December 22, 2011. We will re-open Tuesday, January 3, 2012. Even though we are closed, I'll check emails and phone calls when we are in town (I'll be in Iowa for several days during the holiday break) so we will try to be responsive to urgent needs. Our dyers are also taking a well-deserved holiday break so any dye orders that come in during our closed time will need to wait until the new year to be dyed.