Silk Tidings
Newsletter
July 15, 2014
Dear Silk Lovers,
This week begins HGA's biennial Convergence weaving conference. Not able to travel to Providence RI? Sadly, we aren't there either.
But we have declared July to be Weaving Month! Read about our new free weaving drafts below.
We have a few Limited Edition Anniversary Huck Lace kits still available, a well as our Limited Edition Anniversary Coral skeins of Kiku.
You will love our new limited edition weaving kit—a taupe variation of our popular white Soft and Elegant Huck Lace scarves kit.
Spinners—check out our new Spinner's Sampler Box-Wild Silks & Cultivated Silk. This is an easy way to try six different silks!
We are busily expanding our Harmony thread (6-strand silk floss). We have 83 colors dyed to date…and more in the dye pots. We'll have all 125 by the end of the year.



Forever in Silk --
Susan & Richard & Kiku
---
July is Weaving Month
NEW 2Skeins=2Scarves™ FREE weaving drafts for your weaving pleasure! You can start your holiday weaving now with these lovely new drafts.
We have NINE free drafts available! And two more drafts using Zola or Yasulyn yarns (both 12/2 spun silk) will be introduced later this month.
It's so simple:
Choose your draft(s)
Pick your favorite colors
Buy two skeins
Weave two scarves
The ultimate personalization!
---
Limited Edition 'Soft & Elegant' Huck Lace Scarves Kit
You have made Soft & Elegant Huck Lace Scarves Kit our most popular kit! But you have told us you want an alternative color to white.
We love the natural warm gray color of Silken Fog (silk/yak) yarn.To keep subtle elegance of the two yarns being the same color, we dyed the Taiyō (100% silk) yarn #1013 Pewter (natural dyes).
We have put together a limited number of "Soft & Elegant' Huck Lace (Pewter & Silken Cloud) Kits. This is scarf is heavenly to the touch and lovely to see.
---
Threedles' Triple Crown Chart
You have been able to purchase the thread kit, but now you can get the chart here, too!
Triple Crown is a big project—but like us, you can pick one circle to stitch. Our fearless stitcher, Bonnie, stitched one circle (the one on the right) from the Triple Crown.
With Threedle's blessing, we substituted one thread so that our entire piece is stitched with Treenway Silks. We changed the canvas color to eggshell and filled in the corners.
We love how it turned out!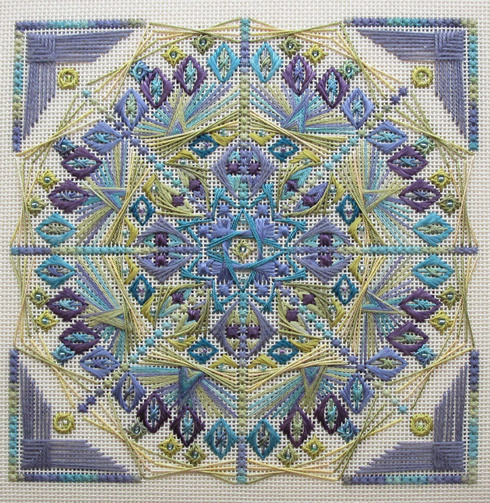 Detail of Belmont from Triple Crown by Threedle
---
New Spinner's Kit
You told us you want to sample all our 100% silk spinning fibers. Your words have power!
New just for you is a new Spinner's Sampler Box Wild Silks & Cultivated Silk. This kit has all FIVE of our 100% silk rovings PLUS our combed tussah noil.
You'll get to play with different wild silks plus the silvery-white cultivated Bombyx silk roving. We include information on the fibers and tips for spinning, too.
Limited Edition Anniversary Coral
The traditional gift for a 35th anniversary is Coral. This inspired us to create a Limited Edition hand-dyed color "Anniversary Coral" to celebrate Handwoven magazine's 35th anniversary. We have just a few of the 35 skeins of Kiku (20/2 Bombyx spun silk) remaining.
---
Limited Edition Anniversary Huck Lace Scarves Kits
Featuring our Limited Edition "Anniversary Coral" color, we created these 4-shaft huck lace scarves kits! Just a sparkle of coral and a sprinkling of jade paired with natural white silk—and the perfect summer scarf was born! We only have a few kits remaining. As a limited edition kit, once gone, this scarves kit is retired forever!
---
Harmony silk thread colors expanding
Harmony thread is our 6-strand silk floss. Designers love our Harmony thread -- the way it glides through the fabric and its colorfastness.
We are so excited to expand Harmony solid-colors to ALL 125 hand-dyed colors! We have 83 colors dyed today. And more colors are dyed each week!
---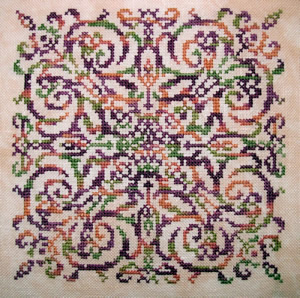 Harmony (6-strand floss) in Montano colorway "La Veta"
Harmony silk thread in Montano colorways
We love our 18 Montano hand-painted (multi-color) colorways.
My friend Karen stitched Ink Circle's 'Pepper Tree' using our Harmony thread (6-strand floss) in Montano colorway La Veta. I love how it turned out!
---
Shop Specials
Our Shop Specials page has been updated with a few more items. More will be added throughout the week.
The Shop Specials page includes limited editions, odd-sized packages/skeins/cones (bigger or smaller than our standard sizes) and our dyed 'oops' (where the dye result didn't match our exacting standards). Selection changes daily!
---
TREENWAY SILKS ON THE ROAD
We'll be traveling on these days:
August 14-19: exhibiting at TNNA show in St Charles, MO, Suite #419
Sept 5-9: exhibiting at "Destination Dallas" trade show in Dallas, TX
October 21-29: exhibiting at Quilt Market in Houston, TX
January 7-14, 2015: exhibiting at TNNA show in Phoenix, AZ
Please remember, while on the road, we cannot ship out orders. But we work extra long hours upon our return to send everything out as quickly as possible!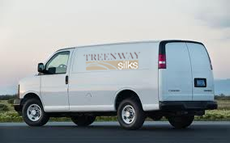 ---