Silk Tidings
Newsletter
June 8, 2014
Dear Silk Lovers,
Spring is my favorite season—everything comes to life! And we have birthdays, too. Richard's is in May and Kiku (our spoiled pup and mascot) has her birthday June 11.
This is a great summer to be a weaver! So many wonderful celebrations happening – or translate that as "opportunities for you"!
Read about Handwoven magazine's 35th anniversary celebration during the entire month of June and how Treenway Silks' is proud to be a part of their month-long party.
July has HGA's biennial Convergence weaving conference. Not able to travel to Providence RI? Sadly, we won't be there either. But we are making the entire month of July a weaving celebration. Read more about this below
Treenway Silks appears in the May 2014 Needle Pointers' magazine. And our newly expanded Harmony silk thread (6-strand silk floss) is highlighted in June 2014 CrossStich magazine.


Forever in Silk --
Susan & Richard & Kiku
---
Handwoven magazine is celebrating their 35th anniversary during June. How many of us have made a project from Handwoven? Or used the magazine as inspiration for our own weaving creations?
Handwoven's celebration includes daily drawings for 35 days! Each week the daily prizes are provided by a sponsoring advertiser.

Treenway Silks is happy to be part of Handwoven's celebration. Our week for the daily prize drawing is June 8-14. Enter every day (www.weavingtoday.com) for a chance to win on of our Limited Edition Anniversary Silk Scarves Kit.
---
Limited Edition Color & Scarves Kit
The traditional gift for a 35th anniversary is Coral. This inspired us to create a Limited Edition hand-dyed color "Anniversary Coral" to celebrate Handwoven magazine's 35th anniversary.
We love Anniversary Coral color so much we had put it on our loom right away! Just a sparkle of coral and a sprinkling of jade (the modern 35th anniversary gift) paired with natural white silk—and the perfect summer scarf was born!
Woven on a 4-shaft loom with our most popular silk yarn, Kiku, this single-shuttle huck lace scarf is a breeze to weave and wear at weddings, reunions, or an evening under the stars.
We want you to weave and wear this scarf in honor of Handwoven magazine's 35th anniversary and a kit makes this so easy!
The Limited Edition Anniversary Huck Lace Scarves Kit includes the silk to weave TWO glorious silk scarves and the weaving draft.
Enter daily (www.weavingtoday.com) between June 8 - June 14 for seven chances to win one of these $80.00 Kits. Or, you may purchase one the kits here.
And, as a limited edition kit, once gone, these scarves kits are retired forever!
---
July is Weaving Month
Are you not able to travel to Providence RI for Convergence? Sadly, we won't be there either.
But we can still have lots of weaving fun! During July we will be introducing NEW 2Skeins=2Scarves ™ FREE weaving drafts EVERY week!
We have two drafts available now: Interlacement and Soft & Elegant. It's so simple:
Choose your draft(s)
Choose your favorite colors
Purchase two skeins
Weave two scarves
The ultimate personalization!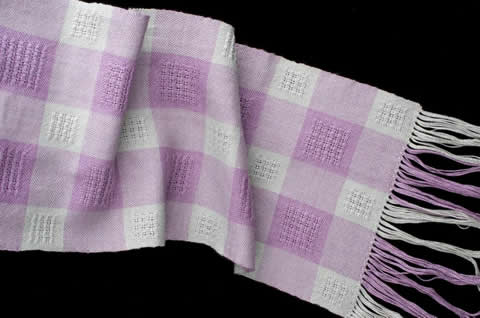 New FREE draft - Available in July
---
Poly-Chrome Crackle Scarves Kits
Handwoven magazine J/F 2014 "Silk" issue has many wonderful projects, including the Polychrome Crackle Silk Scarves Kit (p34).
We made additional kits, but only a few are left.
We have just one kit remaining in the Tranquil Tones colorway . This kit makes two loves scarves. (If the link doesn't work for you, then the kit has been sold)
And just FOUR "dual colorway" kits. These kits have silk for one "Bold Brights" scarf and one "Tranquil Tones" scarf, both using the same warp.
Once they are gone, these kits will go into permanent retirement.

Photo by Handwoven magazine.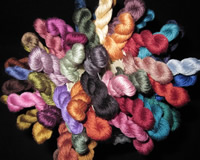 Harmony solid color silk thread - hand-dyed
Harmony silk thread colors expanding
Harmony thread is our 6-strand silk floss. Designers love our Harmony thread -- how it glides through the fabric and how color fast it is. Should you need to rip out some stitching, there is no color left on the fabric.
We are so excited to expand Harmony solid-colors to ALL 109 hand-dyed colors! We have 50 colors dyed today. And more colors are dyed each week!
We will add new colors to our website they are dyed. You will see all 109 colors by the end of 2014.
We are continuing our 17 Montano hand-painted (multi-color) colorways
---
Silk threads Now in Natural-dyes Colors
Our 16 natural dyes color palette is now available in two thread weights: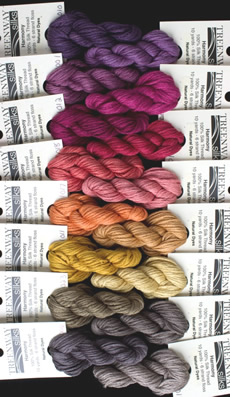 These are perfect for reproductions. Or any stitching where you want the harmony of nature reflected in your piece.
---
Shop Specials
Our Shop Specials page has been updated with a few more items. More will be added throughout the week.
The Shop Specials page includes limited editions, odd-sized packages/skeins/cones (bigger or smaller than our standard sizes) and our dyed 'oops' (where the dye result didn't match our exacting standards). Selection changes daily!
---
Treenway Silks in the News
Needle Pointers magazine's May 2014 (p8) issue has a wonderful article featuring Treenway Silks. Sandy Rodgers, an internationally known embroidery teacher & designer loves our silk threads and ribbons.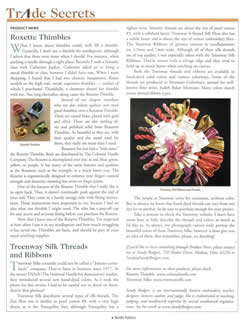 CrossStitch magazine June 2014 issue (p51) featured Treenway Silks' Harmony thread (6-strand silk floss) in "What's New from Nashville"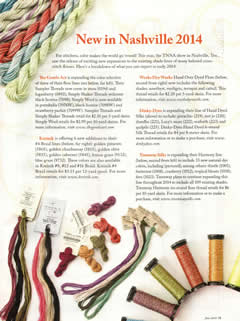 ---
TREENWAY SILKS ON THE ROAD
We'll be traveling on these days:
June 27-June 30: attending Complex Weavers Seminar
August 14-19: exhibiting at TNNA show in St Charles, MO
Sept 5-9: exhibiting at "Destination Dallas" trade show in Dallas, TX
October 21-29: exhibiting at Quilt Market in Houston, TX
January 7-14, 2015: exhibiting at TNNA show in Phoenix, AZ
Please remember, while on the road, we cannot ship out orders. But we work extra long hours upon our return to send everything out as quickly as possible!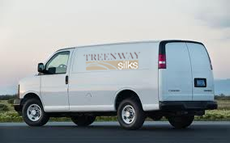 ---