Silk Tidings
Newsletter
March 27, 2014
Dear Silk Lovers,
What a long and dreary winter! We are so excited to see signs of spring arrive with daylight savings time. We have some hardy miniature iris and crocus blooming in our yard.
We have so many new silk products that we have just put a few in this issue. We will be following up with another Silk Tidings shortly. We have something for everyone!
Handwoven magazine January/February 2014 "The Silk Issue" is full of fun and fabulous projects. Want to weave one (or all?!) We linked the Treenway Silks' yarn suitable for each project in our Dec 2013 Silk Tidings newsletter.
The price of silk has been rising steadily and we've often absorbed the price increase. But we find we have to pass along some of the higher costs. Starting April 1, we will be raising the prices of our Bombyx spun silk yarns, our Color Now! silk yarn, and our Threads & Ribbons, including thread kits and collections.
We are always happy to help you with any questions you may have.
And we hope spring arrives to your home soon--Kiku naps while waiting for spring to arrive.


Forever in Silk --
Susan & Richard & Kiku
---

Photo by Handwoven magazine
Poly-Chrome Crackle Scarves Kits
Handwoven magazine J/F 2014 "Silk" issue has many wonderful projects. We're now taking orders for the the Polychrome Crackle Silk Scarves Kit (p34). Expected ship date is late April. Not only do you have the choice of two "Bold Brights" scarves or two "Tranquil Tones" scarves, based upon your requests, we've added the "one of each colorway" choice!
Anyone placing their pre-order by APRIL 13 is guaranteed they will receive the crackle kit(s) of their choice. We'll only be making a few extras and once they are gone, this kit will go into permanent retirement.
---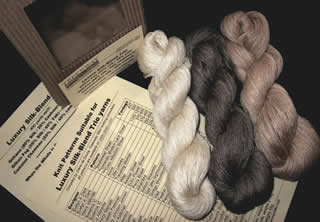 Luxury Silk Blend Trio
Luxury Silk-Blend Trio
Give the gift of luxury to yourself or to someone you love! 400 yards (23g) each of three lace/thread weight yarns:
Silken Fog (silk/yak)
Gōkana (silk/cashmere)
Camelot (silk/camel)
Each kit includes enough yarn to knit 3 lace shawlettes. Or great for adding stripes to your weaving.
With the kit you will receive information on the three yarns and a suggested list of 35 possible knitting patterns (all patterns available on ravelry).
Attractive packaging—makes a great Mother's Day gift (May 11, 2014)
---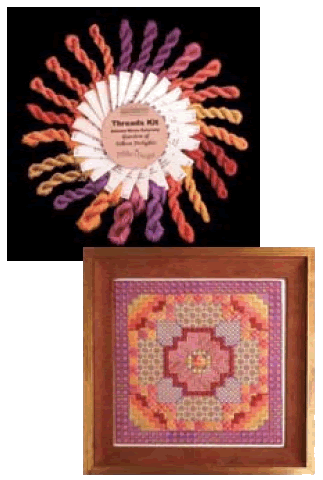 Silk Thread Kits & Charts
DebBee's Designs' Garden of Silken Delights uses Treenway Silks' 100% silk threads throughout the entire piece.
We loved this design so much, that with DebBee's blessing, we created an alternative colorway "Autumn Mums" for the Garden of Silken Delights chart.
And we have a thread kit in this colorway, which includes 240 yards silk thread and a color conversion table.
No local thread shop nearby?
We now carry the chart for Garden of Silken Delight.
---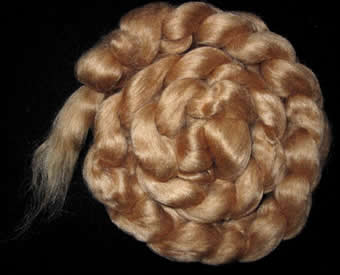 Luxury Silk Blend Trio
Red Eri Roving
In addition to our White Eri Silk Roving, we now stock Red Eri Silk Roving. Our Red Eri Silk is a wondrous brick red—the same color as the cocoon.
The red color is naturally fugitive. Typically the degumming step (removing the sericin from the silk cocoons is one of the steps to process the silk into roving) removes the natural-red color, making a cream roving.
But our silk was processed in a way that required very little of the sericin to be removed, with retains the lovely brick red color.
We've learned that if you soak the red eri roving in water with a touch of mild soap (e.g. original blue Dawn®) the red color stays in tact, even when sharing the bath with white eri silk and natural tussah silk.
But if you soak it with other items that have been processed differently (specifically bleached tussah), the 'fugitiveness' of the red color will stain the other items sharing the bath.
Available in 25g (0.9 oz) or 200g (7 oz) packages.
---