Silk Tidings
Tiding Newsletter
September 23, 2013
Colorado has been devastated by floods during September.
Treenway Silks (our home/office and warehouse) remained dry. Our Colorado dyers, web designer and our packagers also stayed dry. We feel very blessed as the pictures on the news and first-hand stories from our friends are incomprehensible.
The only 'casualty' of the flooding is our phone lines continue to be a problem and we cannot connect with people who call us. Please email us at info@treenwaysilks.com with your questions and please provide your phone number so I can call you, until this is resolved.
Please check out our "Shop Specials" page--you've not seen this page for over a year! I get messages asking if we are ever going to have specials again. Yes we are and here it is!
Also, we've added more colors in our Color Now! silk skeins page. See more info on this below.
Treenway Silks is featured in the Oct/Nov 2013 issue of Quilters Newsletter Magazine. More on that below!


Forever in Silk --
Susan & Richard & Kiku
---
Shop Specials:
Our Shop Specials page is filled with mostly one-of-a-kind items. You'll find silk yarns, silk ribbons and also some silk rovings.
The Shop Specials page includes odd-sized packages/skeins/cones (bigger or smaller than our standard sizes) and our dyed 'oops' (where the dye result didn't match our exacting standards).
The odd-sized items are a great way to try a silk that is new to you.
Small skeins are just right for lace-knitting or weaving a multi-yarn creation. And the bigger skeins are perfect if you need just a bit more than a standard-sized skein for your project.
Most of our odd-sizes are natural (undyed), but we do have a few dyed items that are perfectly dyed, just undersized (labeled Color Now!).
The dyed 'oops' yarns are a great value as they are priced according to the undyed silk. These are great for stash-building.
There are just one to five of each of these 'oops' colors and they sell quickly! There are also a couple dyed 'oops' hand-painted rovings, too.
---
Quilters Newsletter Magazine

Treenway Silks is trilled to listed as "Threads that Performed Best" as reviewed by the editors in the October/November 2013 issue.
The editors ran a feature story "Selecting the Right Thread" on pages 32-35.
You'll find Serenity (8/2 reeled) and Tranquility (fine-cord) in our hand-dyed colors and in the hand-painted Montano colorway, plus Zen Shin (20/2 spun) in their top choices for appearance, tangling, fraying, and shredding.
The article includes great information about the types of silk thread. It also explains the difference between different dye techniques.
You can find all our threads and ribbons here.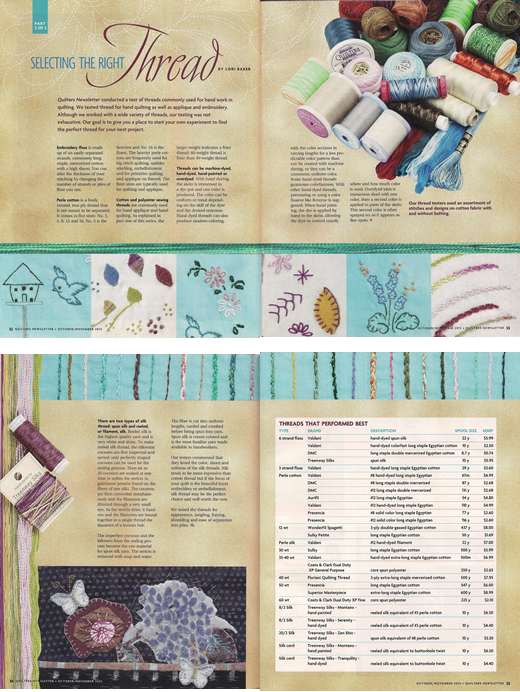 TREENWAY SILKS ON THE ROAD
We'll be traveling on these days:
Oct 26: Teaching 'Silk Fusion' at The Recycled Lamb, Golden CO (class # OT21). If you're in the Denver area, sign up for our inaugural class

here

.
October 29-30, 2013: Participating in TNNA's Yarn Group Strategic Planning session.
November 14-18, 2013: Traveling to Iowa for my parents' 65th wedding anniversary.
December 20, 2013 – January 1, 2014. Closed for the holidays.
January 8-January 15, 2014: Exhibiting at TNNA (The National Needlearts Association) trade show in San Diego CA.
February 13-February 18, 2014: Exhibiting at TNNA trade show in Nashville, TN.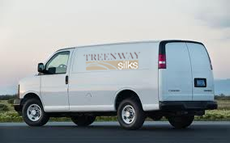 Please remember, while on the road, we cannot ship out orders. But we work extra long hours upon our return to send everything out as quickly as possible!
---
Shop Color Now! yarns
Our Color Now! yarns are already dyed and ready to ship. This is an ever-changing selection of colors in our different silk yarns.
We've added more colors in Kiku, Taiyō , Yasulyn, Gekkō, Yuki and Lixue.
Now is the time to plan those hand-made treasures for holiday gift-giving.