Silk Tidings
Tiding Newsletter
September 11, 2013
The first day of Fall is nearly here and if you haven't gotten your spinning wheel going, it's time! We have a few New Zealand fleeces to inspire you!
However, I am sorry to announce that we will no longer be able to import the lovely New Zealand Fleeces from Ashford Handicrafts of New Zealand.
The New Zealand government has made the paperwork and fees to export raw fleece so arduous that Ashford can no longer afford to export the wonderful fleeces we look forward to every year.
It is not all sad news yet—we still have about a dozen of those luxurious NZ fleeces for you to purchase!
Corriedale, Down crossbred, English Leicester, and NZ Romney are still available. Many are white, which is perfect for dyeing.
You can find the NZ fleeces here.
Once the last NZ fleece leaves here, we will bid a sad goodbye to our annual fleece acquisition.
On a different note, we are busy building our Web Specials page. You've not seen this page for over a year! I get messages asking if we are ever going to have it again. And yes, we are!
I have a basket of silk yarns and silk rovings ready to go up on the specials page. When it is ready, we will send a Silk Tidings newsletter to let everyone know.


Forever in Silk --
Susan & Richard & Kiku
---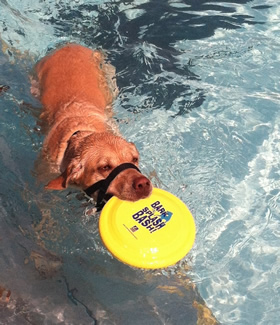 Kiku loves to swim!
Update on Kiku:
Many of you have asked how Kiku, our three-year-old puppy, is doing after her two hip replacement surgeries.
Kiku is doing great and proved it by swimming NON-STOP for over two hours last weekend at the annual Bark 'N Splash.
Five minutes of swimming is supposed to be equivalent to 30 minutes of walking (maybe I should start swimming again?!)
But Kiku was not remotely sore afterwards. I think the hip replacements are a success!