Silk Tidings
Tiding Newsletter
July 18, 2013
What a busy summer we are having! Between preparing and traveling to shows and new products arriving, every day is a great adventure! And we love every minute of every day!
Look for us at Quilt Festival in Long Beach CA on August 1-4. We'll be in booth #1140. We will be giving free silk fusion demos in our booth every day. Stop by and say 'hi' and take advantage of seeing all the glorious Treenway Silks' colors in person!
And, thanks to everyone who shared their compliments and suggestions for our new website. We appreciate how much you care and we're getting those suggestions incorporated.
Don't miss the "Name that Yarn" contest. I know you'll have great suggestions! And if we use the name you suggest, you'll get a free skein!


Forever in Silk --
Susan & Richard & Kiku
---
New Silk Threads Collection—
Gulf Islands II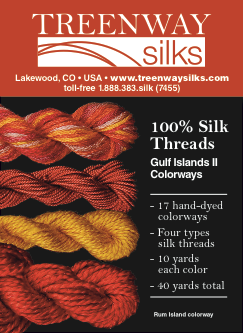 We now have the photographs on the website of all 17 lovely Gulf Islands II colorways. You can see them here.
Many of you may remember when Treenway Silks had these 40-yard thread collections in the past. We've reinvented them (hence the 'II' in Gulf Islands II) for your stitching pleasure.
Each colorway includes four 10-yard skeins of silk threads. Each thread is different type so you get all of our favorite threads for hand-stitching in one luscious colorway.
The colors are yummy—we start with a Montano colorway (hand-painted variegated) and then add three coordinating hand-dyed colors
Each colorway, a total of 40 yards, includes:
1 skein Silk Floss (6-strand) Montano hand-painted colorway
1 skein Zen Shin (20/2 spun silk) in a coordinating hand-dyed color
1 skein Tranquility (Fine Cord) in a coordinating hand-dyed color
1 skein Serenity (8/2 reeled silk) in a coordinating hand-dyed color
And, should you want the entire Gulf Islands II collection—all 17 colorways—you won't find the same color in the same thread twice! All 68 threads in the collection are different!
---
WILD COCOONS
We now carry four different wild cocoons (in addition to our Bombyx or cultivated cocoons). You can find them here.
Importing cocoons is a complicated, crazy process—not so much for Treenway Silks but the paperwork that our supplier does is really arduous! .
Our Indian supplier needed to remove the pupa from inside before exporting the cocoons to us. This means the wild cocoon have a 'slit' so these cocoons are not suitable for reeling.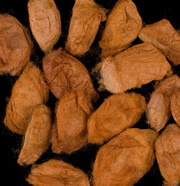 Eri Red Silk Cocoons
Eri
We have silk cocoons from the Philosamima Ricini silk worm. This silk worm gives us Eri Silk. We have both the Red Eri and White Eri cocoons.
I adore the rusty color of the Red Eri cocoons. Wouldn't it be great if the silk roving from the red eri was the same color?
It isn't, but you'll be able to see for yourself next month as we have a small supply of Red Eri roving scheduled to arrive in early August.
Muga
We also have silk cocoons from the Antherea Assama silk worm. Our lovely gold muga silk comes from this little guy.
This silk worm eats the leaves of the Som tree (machilus bombycine) or Soalu (litsaea polyantha). These trees contain tannin—the same thing in tea that colors in your cup—which gives the muga silk its lovely honey-gold color.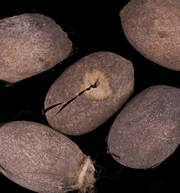 Tussah Silk Cocoons
Tussah
Looking for cocoons from Antherea Mylitta silk worms? We have these, too!
Whether the silk worms are reared in the tropics or temperate climate, the leaves they eat contain tannin, the ingredient in tea which can leave stains. Here, the tannin enables the silk worm to create a lovely light-gold silk.
Our cocoons are from the tropical variety of Antherea Mylitta. This is the same variety that creates the peduncle , or stem (see our tussah peduncle yarn here). Unfortunately for us, the peduncles have all been removed from our cocoons.
---

NEW THREAD KITS
FOR DebBee's DESIGNS newest patterns
We're so excited that esteemed canvas work designer Debbie Rowley (DebBee's Designs) selected Treenway Silks' threads to use in her newest two designs! Both were debuted at TNNA-Columbus and they have been huge sellers!
Garden of Silken Delights has been designed totally with Treenway Silks' threads. And we have put together a thread kit for you here.
Using just one brand of silk in her design is a departure for Debbie, but she was so excited about our silks that she was inspired design this piece completely with our extensive threads collection.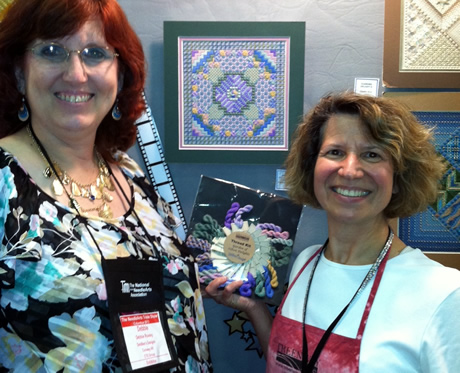 Debbie (left) and Susan at TNNA beside Garden of Silken Delights
Tropical Punch is Debbie's other new pattern. This design features 6 different Treenway Silks threads/colors. Here's the Treenway Silks' Thread Kit.
Debbie (left) and Susan at TNNA beside Tropical Punch
Each design is so lovely, how can you pick a favorite?!
And, you'll enjoy reading DebBee's blog post about working with Treenway Silk's threads. Here's a link to her blog.
'NAME THAT YARN' CONTEST
Creative silk lovers—
we have a new Tussah Yarn that deserves a New Name. And, I need your help to name it!
Our current Tussah, Gōlḍana, is a 30/2 spun yarn. Gōlḍana means 'golden' in Hindi.
Our new Tussah is 35/2, so just the tiniest bit finer grist. It is the identical lovely light gold color.
Submit your name ideas to silk@treenwaysilks.com by July 27th (please put TUSSAH in the subject line).
If your suggestion becomes the winning name, I'll send you one skein of this lovely new Tussah silk yarn
---
Knitting Daily TV
Have you seen Knitting Daily TV on public television? They pack in a lot of information in a 30-minute episode.
My favorite part is 'Yarn Spotlight' where Clara Parkes and Eunny Jang cover the different qualities of specific yarns. I always learn so much!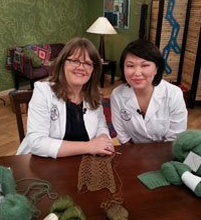 Clara Parkes and Eunny Jang
from Knitting Daily TV
And I'm so excited that Treenway Silks' will be part of Yarn Spotlight in TWO episodes this year!
Check out Episode #1106 to see Kiku (lace) covered and the Lace Episode #1110 to learn about Silken Fog (lace/thread).
---
TREENWAY SILKS ON THE ROAD
We'll be traveling on these days:
July 30-August 6: Exhibiting at International Quilt Festival, Long Beach CA. Come to the show and visit us in booth #1140! Daily Silk Fusion demos in the booth!
August 22-27: Exhibiting at TNNA fall Needlecraft Market, St. Charles, MO. We'll be in suite #419 Ask your local shop owner to stop by and see us!
January 8-January 15, 2014: Exhibiting at TNNA (The National Needlearts Association) trade show in San Diego CA.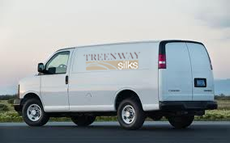 Please remember, while on the road, we cannot ship out orders.
---
Yarn On Cones
You asked for cones and your wish is our command!
Now you can get FOUR different Treenway Silks' fine spun silk on a cone:
All of our cones are 'put up' as 200 grams and are available in Natural White.
Love the hand-dyed colors but wish your yarn was 'put up' on cones? Now we offer a cone-winding service!
After your yarn is dyed, we can wind it onto a cone for $15.00/skein (note, Myōjō and Arabella's web are $20/skein). Please plan for an extra couple days to wind your cones.
To order cone-winding, click here.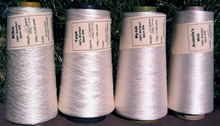 You asked for cones. Treenway Silks delivers! Cones are Natural White.
---
Jorie II
We just received a new shipment of our worsted weight yarn.
When we had this spun for us again, we wanted it just a bit different, to minimize 'splitting stitches.' Diane, Treenway Silks' knitting consultant, tested the yarn with different twists and chose this as the winning yarn!
Also, we wanted 100g skeins (210 yards) so that you need fewer skeins dyed when knitting or weaving a project.
New and improved, we named this yarn Jorie II! You can find it here.
We are down to just a handful of Jorie skeins so we've reduced the price. You can shop for Jorie here.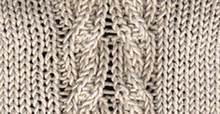 Knitted sample of Jorie
---
DebBee's Designs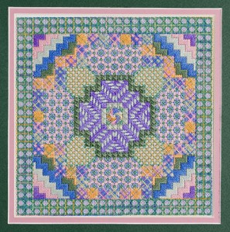 DebBee's Designs - Garden of Silken Delights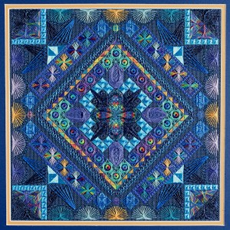 DebBee's Designs - Tropical Punch