Silk Tidings
Tiding Newsletter
Janauary 16, 2013
Just a quick reminder that our Color Now! skeins will be going up in price this Friday (January 18, 2013). So take advantage of these introductory prices today!
We have Color Now! skeins in 8 different yarns: Kiku, Taiyo, Gekko, Zola, Yasulyn, Yuki, Lixue and Chilali. And we have a few skeins of 3.5mm ribbon.
Also, a reminder that Treenway Silks will be on the road at TNNA at the end of this month. We'll process orders through 1/25/13 and then start shipping again on 2/8/13.


Forever in Silk! --
Susan & Richard & Kiku
---
COLOR NOW! Skeins
Treenway Silks offers the largest selection of silk yarns, ribbons and fibers you'll find anywhere. And, as a hand-dye operation offering 109 colors and 17 natural-dye colors, we dye your yarn/color combination especially for you when you place an order.
But sometimes those projects have a deadline and you need the color NOW! When inspiration strikes on a project, who wants to wait? So we have Color Now! skeins which are already dyed and ready to go.
Check here for the latest colors and yarn types.
As you scroll down the webpage, you first see our Natural-Dye Color Now! skeins in Kiku and Yasulyn—click on the .pdf link to see the latest color availability.
Next you'll see the link to the .pdf for Color Now! skeins in Kiku, our most popular yarn.
Keep scrolling down the page and you'll find the link to the .pdf for the Color Now! skeins in Taiyo, Gekko, Zola, Yasulyn, Yuki, Lixue, Chilali and 3.5mm ribbon.
The color and yarn selection changes regularly, so take a look at all three .pdf links to see our latest and complete selection.
The idea for Color Now! started out in honor of Kiku (our pup, not the yarn). Kiku is just 2 years old and needs her second hip replaced on January 18, 2013. So our dyers have been dyeing up a lot of Kiku (the yarn, not the pup!) which we're offering at a special introductory price.
But, we liked the idea so well that we've expanded it to our other silk yarns.
Remember, prices going up January 18, 2013 so this is a great time to build your stash!
---
New WEBSITE
We've been working diligently since June to redesign our website. The debut of our new look will be around Valentine's Day.
All of the fabulous silk information will still be on our site. What we'll be adding is a shopping cart (just click on what you want—so much easier than writing it into the order form).
If you like the current order form, no worries, it will still be available.
And, as always, we're just a toll-free phone call away -- 1.888.383.silk(7455) if you have questions or wish to place your order over the phone.
We're really excited about this big step. We think you'll find the new look and navigation as terrific as we do!
Kiku (our pup) Update
Kiku's Total Hip Replacement surgery is this week. Hard to believe time has gone so quickly!
Treenway Silks will close at noon on January 17, 2013 so I can drive Kiku to the Colorado State University Vet Hospital for her prep work. Surgery is the next day.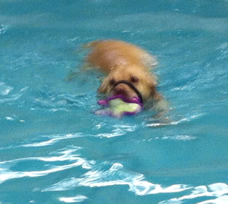 Kiku loves to swim!
---
Gotland Fleece Lottery Update
I have lots of entries to our 'opportunity to purchase' lottery. Remember, deadline is end of day Thursday, 1/17/13.
For details on the lottery, click here.
---
TREENWAY SILKS' TRAVEL SCHEDULE

Treenway Silks will be on the road at TNNA (The National Needlework Association) trade show in Long Beach, CA. This is our first time exhibiting at this show.
We will stop shipping orders on January 25, 2013 and begin shipping again on February 8, 2013
We'll be answering emails during this time (phone calls, too, but there will be a few day delay)
If your local shop owner will be at this show, have them stop by our booth #667.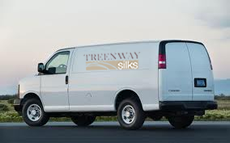 ---