January 01, 2012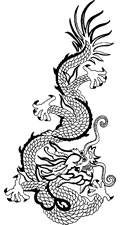 Happy 2012, the year of the Dragon! In Chinese astrology, the dragon was seen as a powerful almighty king because it was made up of different parts of animals such as a tiger, fish, snake and an eagle. The Chinese dragon was seen as a symbol of power, superiority and rule.
Individuals born in the year of the dragon (2012, 2000, 1988, 1976, 1964, 1952, 1940, 1928) tend to be "doers" – they do things and achieve power by getting things done. They are innovative, enterprising, self-assured, brave, passionate, conceited and quick-tempered. Dragons are the free spirits of the Chinese Zodiac.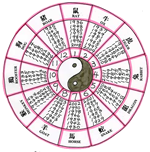 I think each of you, if not born in the year of the dragon, definitely share characteristics of the dragon…you are "doers" and create many, wonderful pieces, passionate about your artistic creations, and innovative—I've seen pictures of your fabulous work!
This is also a Water Year. Water signs correspond to the emotional side of our natures, as changeable, subtle, and able to infiltrate as water itself. Water symbolizes the infinite realm of possibilities, which precedes all form and creation. So, 2012 should be a creative year for everyone.

May each of you have a fabulous, creative, silk-filled 2012!
Forever in Silk--
Susan and Richard
---
NEW ZEALAND FLEECES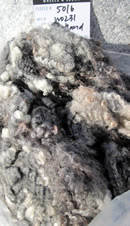 The New Zealand fleeces have arrived!
For complete details on the fleeces click here here.
We had an unseasonably warm day to unpack the 300 pound bale. While Treenway Silks has carried these high-quality fleeces for many years, this was our first time to do the ordering, receiving and unpacking.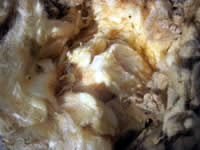 I was convinced that the bale would 'explode' once opened! While not really an explosion, the fleeces had been compressed (vacuum-sealed?!) before the bale was closed, so the fleeces naturally expanded once removed from the bale.

What a fun morning it was unpacking! Each fleece was worthy of many oohs and aahs. It is impossible to name a favorite! The fleece are so clean and the colors are magnificent!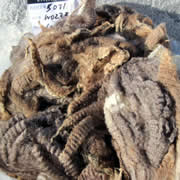 This year Treenway Silks is offering the following fleeces: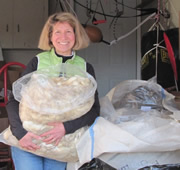 As always, we include information about the breed, photos, micron and staple length, best uses for the fleece, and a few tips for spinning here
Have fun picking your fleeces. Each fleece is a one-of-a-kind so we are careful to process your purchases in the order they arrive. When you send in your order please include the fleece number, breed, weight and color. It is advisable to include a second and even a third choice in case your first choice has already been shipped out.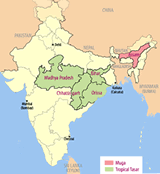 Founders' Corner
Karen and Terry are back from their trip to India. They have much to share in an upcoming newsletter. I can't wait to hear all about their trip!
SILK/ANGORA RABBIT YARN
The year of the rabbit ends on January 22, 2012, but our 55% silk / 45% angora rabbit yarn is always available. We just received a new shipment and this yarn is so wonderfully soft it rivals cashmere!
The fur of the rabbit is very fine, soft, lightweight, has great insulation qualities (it is seven-to-eight times warmer than wool!) and can have a silky texture depending on the breed. Angora can be difficult to spin, the fur can felt if not stored properly and it is excessively warm.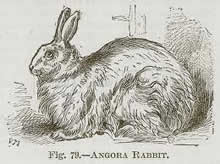 The benefits of blending angora and silk are that the silk provides length, sheen, less pilling and practicality in price and uses. The angora brings warmth, softness and luxury to the silk. The soft, strong yarn is delightful to weave or knit and provides a warm, soft fabric that is lovely for scarves and other garments.
This lace/thread yarn comes in 100g (3.5 oz) skeins; there are approximately 1,540 yards per skein. Suggested weaving setts are 28-32 ends per inch (EPI) for plain weave and 36 EPI for twill. For more information click here.
---
NEW YARN CHARTS
One just for knitter and another just for weavers!
We've added information about our silk yarns for knitters. This is a work-in-process and the chart includes the yarn size in knitter terminology, the yards in a skein, the approximate wraps/inch, typical gauge, US needle size and metric needle size. You can find the link on the Silk Yarn page, or go directly to it by clicking here.
We've also added information about our silk yarns for weavers. Now in one chart you can find the yarn size, the yards/lb (m/kg), the yards per skein, sett for supple plain weave, firm plain weave, twill, and also the approximate price per skein (in US dollars). You can find the link on the Silk Yarn page, or go directly to it by clicking here.
---
Follow Treenway Silks on Facebook:
Follow us on facebook you'll be inspired by terrific projects that people have made with Treenway's silks, plus you can laugh along with me as we have some type of 'adventure' with the business each week. And Facebook will give you sneak peaks into new products in development. Link To Facebook
---